The Institution

RiverWood Bank's original banking charters were formed in 1910 and 1922 in Bemidji and Morris, respectively, as state chartered local building and loan associations. The present charter is a national savings and loan association regulated by the Office of the Comptroller of the Currency (OCC).
Today, RiverWood Bank is a wholly-owned subsidiary of Great River Holding Company. Great River was founded in 2003 to acquire branches in Benson, Big Lake and Morris. Additional branches were opened in Baxter and Crosslake in 2004 and Monticello in 2008. The branches in Baudette, Bagley and Bemidji were acquired in 2006. The company has grown from the original four banking offices with $85 million in total assets to 11 banking offices with more than $500 million assets today.
RiverWood Bank is an employee-owned and operated bank located across central and northern Minnesota. It provides both personal and business banking services, including residential mortgages, commercial banking, cash management services and more. The owners and board members of Great River include employee-owners and shareholders who live in the communities the institution serves.
The Situation
Before the Coronavirus Pandemic, RiverWood's Vice-President and Mortgage Services Manager, Kari L. Schmidt, had been paying close attention to the industry's progress on its digital transformation. She had been monitoring industry news and events and heard about Virpack. She recalls being interested and mentioning it in a leadership meeting.
And then COVID struck.
At the time, the institution was operating without OCR capabilities in its mortgage loan origination department. This process wasted time spent stacking and restacking paper loan files to meet investor requirements.
Furthermore, working from paper or PDF files increased the time and complexity of underwriting, processing and loan reviews, requiring the staff to touch loan files multiple times during the process.
Remote loan processing, which would have been nice to have a few months before, was suddenly vitally important. Schmidt went to market in search of a solution. She approached the task with a list of requirements:
Cloud storage of the loan file

A paperless loan process with electronic documents

Remote processing from any location

Remote access to all file data and documentation

Automated electronic comparison of documents and data

LOS Integration with Calyx Point

ADR - Automated Document Recognition

ADE - Automated Data Extraction

Workflow automation
Schmidt was specifically interested in a platform that could automatically extract data from documents and compare it to information already in the loan origination system (LOS). Finally, she wanted to press a button and have all of the documents automatically stacked for any investor she chose.
Every day she spent looking for a solution was another day the bank was losing ground in a market that was suddenly on fire with real estate lending business. Fortunately, she found the team at VirPack.
The Solution
Schmidt says she was impressed with the team and the technology they presented, but her decision was made easy because VirPack was already integrated with two of her most important lending partners, Calyx and DocMagic.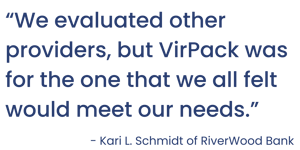 "We were looking for a provider that could be utilized for other purposes within our organization other than just lending," Schmidt said. "We also liked the OCR and the barcoding recognition out of VirPack, which isn't something we have available within Calyx."
Schmidt said one big plus was that VirPack was integrated with Calyx Point milestone information, so file data could be seamlessly loaded into the LOS. Finally, she said the VirPack platform's relatively low cost was a factor.
"We evaluated other providers, but VirPack was for the one that we all felt would meet our needs," she said.
VirPack delivered everything on RiverWood's list. In addition, it offered:
Processors are automatically alerted of new loan submissions via VirPack task notification.

Loans are easily processed by personnel located in multiple locations.

The entire workflow -- from setup to shipping -- has been automated using VirPack's tasking feature.

Borrower disclosures signed via DocMagic are automatically imported into the Index queue using the VirPack/DocMagic integration.

Closed loans are electronically prepared and shipped using VirPack's Delivery feature.
The Results
Schmidt says RiverWood is very satisfied with the relationship with the VirPack team and said it was apparent the institution had chosen the right partner when everyone saw how quickly the loan department transitioned from paper documents to electronic loan processing.
"The migration away from paper and going to electronic storage of the data was the biggest thing," Schmidt said. It allowed her staff to remain safe during COVID by working remotely. And it made investor delivery much faster and more cost-effective.
"We now have the ability to audit files and then deliver them to our servicers within moments rather than hours or days, thanks to this technology," she said. "If we need an API, it is really quick to just pop it in and push a button and almost instantly we are ready to deliver that file. We'll get the required changes in very short order and can send our files to whomever we need to. So, our ability to deliver files is much faster than what we had before. Our ability to deliver documentation to third-party underwriters also is faster."
In addition, VirPack added additional value, including:
VirPack's annotations and comments feature has improved communication between team members and ensured that communication stays in a highly visible system.

VirPack's tasking engine is improving process visibility, allowing for continual feedback to the loan officer and subsequently, the borrower as all parties know where they are in the loan process. Greater visibility correlates with greater satisfaction.

Automatic import of Disclosures from DocMagic ensures that content is not lost in email and shortens the processing time of the loan. Tasks and notifications are automatically generated to alert team members of inbound DocMagic content, helping close process gaps.

Integrations with technologies like DocMagic help reduce the dependency on email and ensure that PII data is handled securely.
Today, RiverWood's mortgage staff touches files one time, whether it be for review, underwriting, processing, or quality review. The staff has greater access to loans, regardless of location, and management has greater control over who has access to what information.