Quarry City Savings and Loan
The Institution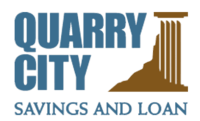 Quarry City is a Missouri-chartered savings association that offers financial services to individuals, families and businesses through its full-service office located in Warrensburg, Missouri, which is the County Seat of Johnson County, located in west-central Missouri. Quarry City has operated continuously in Warrensburg, Missouri since its founding in 1890.
In March 2022, Community Bancorp, Inc. ("Community Bancorp"), the bank holding company of Community National Bank & Trust ("Community National" and collectively with Community Bancorp, "Community"), a national bank with its principal office in Chanute, Kansas, signed a definitive agreement to merge with Quarry City Savings and Loan Association.
Community National Bank & Trust is a community bank, headquartered in Chanute, Kansas with 39 locations in Kansas, Missouri and Oklahoma. Community National Bank & Trust offers a wide array of unique checking account products, internet and mobile banking, savings, diversified lending in residential, agricultural, commercial, and consumer lending, leasing, commercial cash management and trust services.
The Situation
Quarry City Savings & Loan was a small community bank with one branch when it began working with Virpack in 2018. The institution was making mortgage loans but had little experience originating government-insured loans and wanted to expand its menu of loan products to better serve its customers.
The solution at that time was to recruit and hire Craig L. Wells to become the institution's new Vice-President of Secondary Markets. Craig came with an impressive resume and a favorite tool for dealing with the complexities of government lending, VirPack.
Back in 2010, Wells was an underwriter at United Fidelity Funding, a lender operating almost completely on paper. Wells was there when the institution made its transition to paperless with VirPack and that experience got him recruited at a larger institution. The opportunity to start up and run a new government lending division got him excited enough to move back to a smaller lender, but he knew it wouldn't work if the lender stayed using paper. Wells led the installation efforts that brought VirPack into Quarry City and began building an impressive government lending program.
And then, everything changed.
Quarry City's merger with Community National Bank & Trust is expected to be complete in September 2022. Now, instead of handling the government lending for a single bank branch, the new company will put him at the head of a 40-branch network. But Wells isn't worried. He knows he has the software to manage the job.
The Solution
Wells had previously worked in a larger institution so he knew the challenges his department would face when volume from the new branches started coming in. Government lending is exacting work, but his experience told him that TRID would be more of a problem as volumes increased. He went to management and told them he needed a solution that could deliver:
a completely paperless process for all loans

greater transparency for easier management

automated monitoring of date-sensitive compliance requirements

configurable workflows
As an experienced VirPack user, Wells knew where to find the solution and he soon had the board sold as well. Timelines and checklists are among his favored tools and he knew from experience that he could manage them both with VirPack.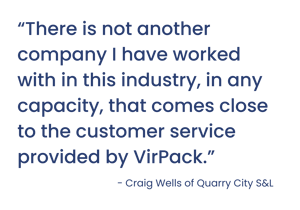 Now, the new loan setup team is automatically alerted of new loan submissions via VirPack's task notification functionality. From there, the entire workflow -- from setup to shipping, including all government loan insuring -- has been automated, using VirPack's tasking feature. At the end of the process, VirPack's "Container Due Date" feature allows processors to easily monitor for missing documentation.
"VirPack is my best staff member, but it's also my best supervisor," Well said.
The VirPack system automatically alerts managers when tasks are due or past due, eliminating the need for back and forth communication. When government loan fees are due, they are automatically assigned to the manager as soon as a loan closes (avoiding costly fines). But the best part is that it allows Wells to monitor the success of his team in real-time.
"VirPack software does the tracking for us," Wells said. "The system is constantly monitoring our efforts, so I can see exactly what tasks have been done and which person did the work. If someone tells me that they have completed work, I can easily confirm that it was done. Everyone on my team knows that I'm watching because VirPack is watching," he said.
The Results
The merger is still in process, but Wells says his department is ready to handle whatever the new combined institution sends his way.
Quarry City has successfully met its goal of transparent and persistent communication within one system using VirPack, as all comments and tasks are historically captured within the system and easily accessible by management. The lender's government loan program is flowing smoothly and profitably, without incurring fees for missed deadlines.
A potential 40X increase in government loan volume flowing into a department would be enough to send most department managers running for cover, but not Wells. His experience with VirPack and his understanding of the platform's capabilities gave him the confidence to welcome the challenge.
But it wasn't just the software. Well says it's the people VirPack has made available to his institution that really make the difference.
"There is not another company I have worked with in this industry, in any capacity, that comes close to the customer service provided by VirPack," Wells said. "They are so fast and they know how to solve any problem I encounter."
Wells claims that what VirPack offers goes well beyond taking the paper out of mortgage loan processing.
"They are simply one of the best companies on the planet," he said.